Diamond Drilling made easy
Diamond drilling system that is versatile and easy to use
We understand that some of the biggest challenges for diamond drilling onsite are related to equipment handling, water management and high cost.
So we set out to make diamond drilling as easy as possible with innovative new products and a complete Fleet Management solution including Hilti tools, core bits as well as training and onsite support.
We've connected water management system, WMS 100 with all diamond drilling tools, providing you high coring productivity all day without the need to concern of water supply.
Easy as 1, 2, 3
Diamond drilling can be cumbersome. From finding a water source, transporting it to the coring location and managing the flow of water, to fitting the core bit and cleaning up the slurry after drilling - it's a lengthy process.
Our full solution is designed to take all this hassle out of diamond drilling. You can easily position the equipment, anchor the rig and insert the core bit. Combined with our water management system, your water supply and slurry collection is all taken care of.
At Hilti, we've made diamond drilling as easy as 1, 2, 3. 
1/ Anchor the diamond drilling stand and set up the tool
Set up your rig in the coring location, place the water collector ring and connect the DD-WMS 100 hose for virtually splatter-free coring! With our quick connect chuck on the core bits, you're up and running in no time. The DD-WMS 100 can be filled with up to 15 litres of water and easily wheeled to your work area. The filter system cleans and recycles water as you drill transforming the 15 liters fill volume into 100 liters of water supply allowing you to core all day without needing a refill. No more running long hose pipes, hosting large containers or scaling the stairs.
2/ Minimum experienced worker is needed
With the presence of force indicator light which enable worker to use the right force throughout the whole coring process, leading to all-time optimum coring performance. You can optimize the number of holes you core per day.
3/ Core all day long
When tool and water management system are connected, the pump only runs as long as the motor is running. Now that you are all set, you can core all day without the need to refill the water source. In addition, the water collector helps you to keep your work area clean of dust and slurry splatter, so there's no need for clean-up later.
Get Hilti Connect to get service information and user statistics
No more unpredictable costs with Fleet Management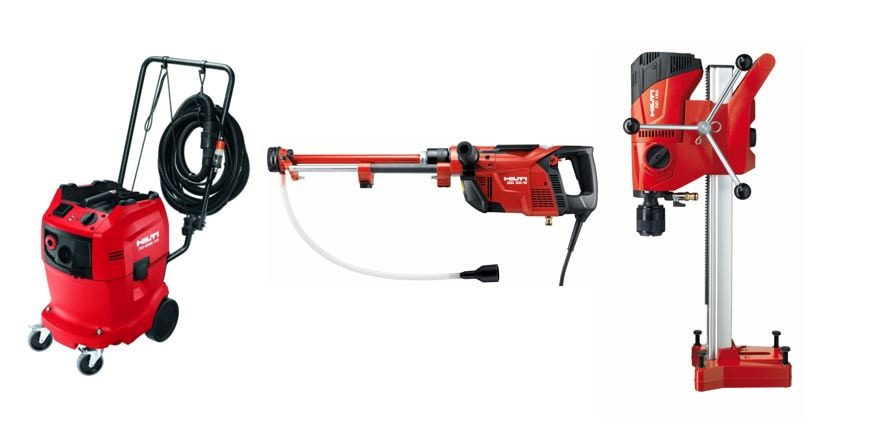 Talk to us to find out how to initiate a 3-year Fleet Management contract for all our Diamond Drilling machines.
We are here to support you onsite
Do you need help with training on your new diamond drilling equipment? No problem! Our expert team is here to support you. 
They will visit you onsite to show you how to install the rig, connect the water source and place the vacuum pump so you can use it with confidence. 
They will also show you the different lines of the core bits, saving you plenty of time and money.
Explore our diamond drilling systems